A15 è un Range Extender Wi-Fi Dual Band AC750 che offre una velocità dati fino a 433 Mbps su banda a 5 GHz e fino a 300 Mbps su banda a 2.4 GHz. Grazie alle sue due antenne esterne omnidirezionali da 2dBi, A15 è in grado di fornire una copertura WiFi ampia e stabile. Tenda A15 è dotato anche di una porta LAN 10/100 Mbps e può essere utilizzato anche in modalità Access Point. Inoltre, con l'installazione guidata bastano 3 semplici passaggi per configurarlo.


Tenda A15 AC750 Dual Band WiFi Repeater-Tenda, All for Better Networking (tendacn.com)



Switching rapido tra le due bande 2.4 GHz e 5 GHz per una connessione internet veloce e senza interruzioni
Con 2 antenne omnidirezionali esterne di alta qualità, A15 può espandere contemporaneamente reti WiFi da 2,4 GHz e 5 GHz, supportando il passaggio automatico tra le due bande.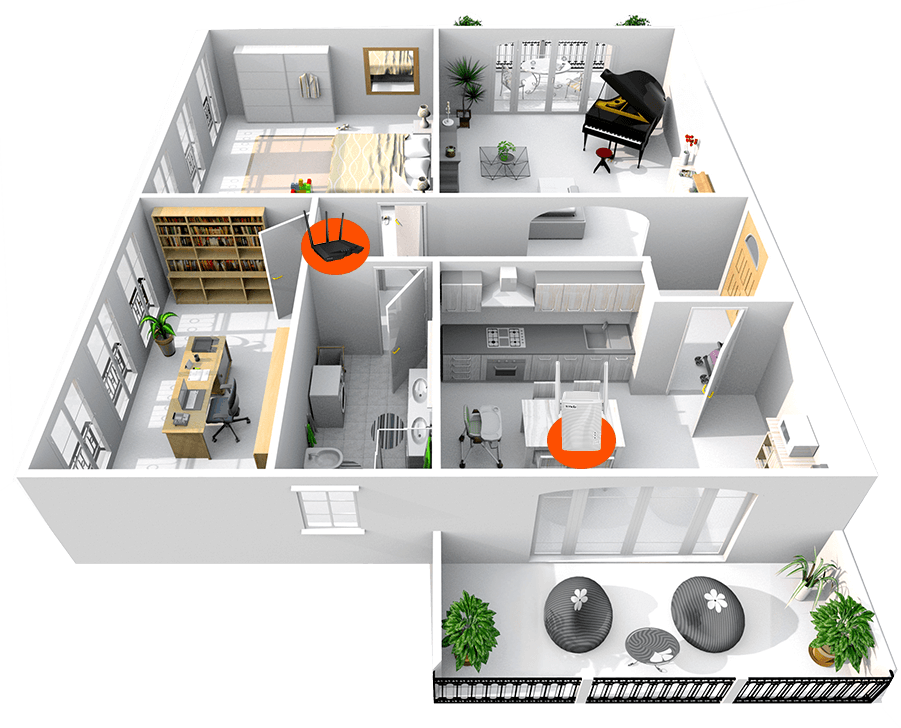 Prestazioni eccezionali con un design compatto
Se installato con un Router WiFi Dual Band A15 ti consente di goderti la tua Smart Home home con una connessione Internet più veloce e più stabile

Due modalità in una per diverse esigenze
Puoi scegliere tra la modalità Access Point e la modalità Repeater in base alle tue esigenze .
Modalità Repeater :
Collegandolo direttamente al Router di casa può estendere il segnale WiFi ;

Modalità AP :

Basterà collegare A15 a una porta ethernet a muro per creare un punto di Accesso

I LED sapranno guidarti verso la posizione migliore
The Signal LED tells the best repeater location.
Blue: Segnale forte
Red: Segnale debole o assente
Off: no signal

Compatibile con qualsiasi Router WiFi


**SPECIFICHE:
Interfaccia
1 Megabit LAN Ethernet ports
Antenna
2*2dBi Omni-directional antennas
Pulsante
1 reset button
1 WPS button
Potenza
Input:100-240V—50/60Hz, 0.3A
Output:9V800mA
Indicatore
1 Signal
1 WPS
1 PWR
Dimensioni
80 x 57 x 45mm(3.1 x 2.2 x 1.7 in.)
Standard senza fili
IEEE 802.11n/a/ac
IEEE 802.11b/g/n
Velocità senza fili
5GHz:Up to 433Mbps
2.4GHz:Up to 300Mbps
Funzioni basiche
Hide SSID
Sicurezza senza fili
WPA/WPA2-PSK(default)
Efficienza
802.11b: 11 Mbps
802.11g: 54 Mbps
802.11n: 300 Mbps
802.11ac:433Mbps
RSSI
2.4GHz:
11b-1M:-97dBm
11g-54M:-76dBm
11n-20M-MCS7:-74dBm
11n-40M-MCS7:-72dBm
5GHz:
11a-6M:-95dBm
11n-20M-MCS7:-74dBm
11n-40M-MCS7:-72dBm
11ac-80M-MCS9:-63dBm
Modalità di funzionamento
AP Mode and Repeater Mode
Wireless security protocol
Default encryption mode: Mix WPA-PSK/WPA2-PSK
Blacklist
Canale
11n:20/40MHz by default
11ac: 80MHz by default
Altro
Firmware upgrade, Restore factory settings, Login password, and Reboot
Temperatura
Operating Temperature: 0℃ ~ 40℃
Storage Temperature: -40℃ ~ 70℃.
Umidità
Operating Humidity:10% ~ 90% RH non-condensing
Storage Humidity: 5% ~ 90%RH non-condensing.
Certificazioni
FCC, CE, RoHS, EAC, IC
Customers who bought this product also bought:
Customers who bought this product also bought: